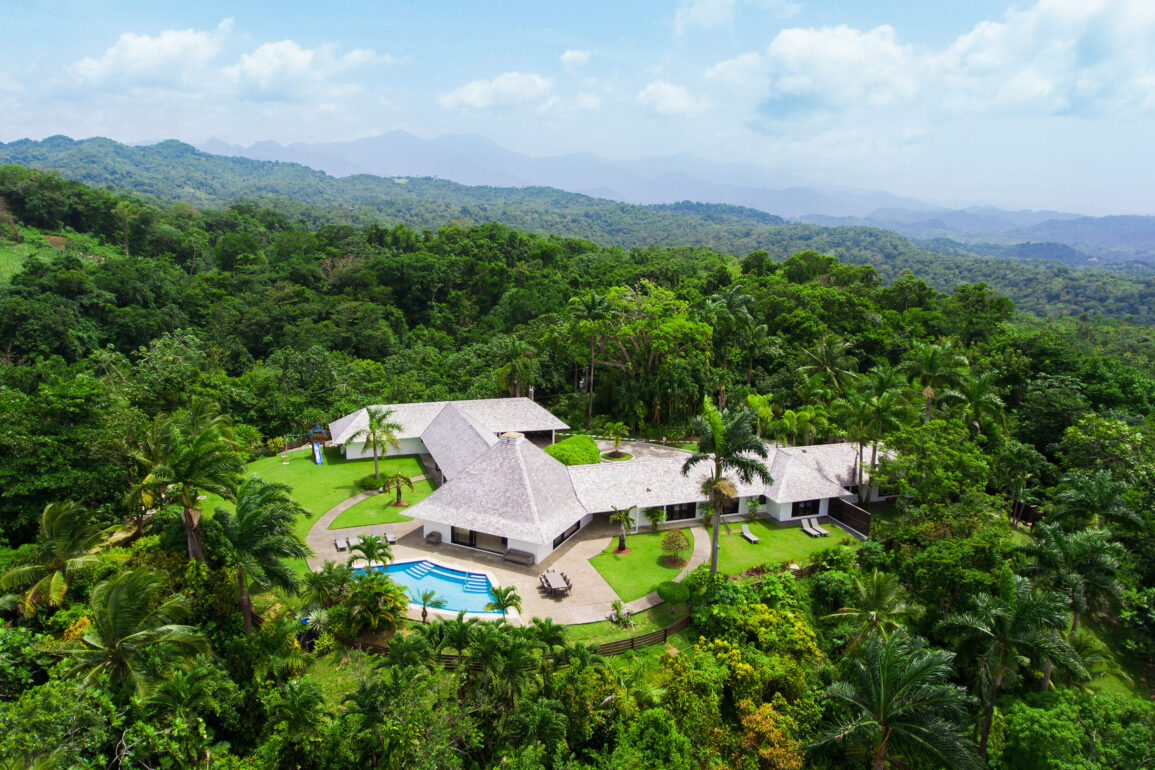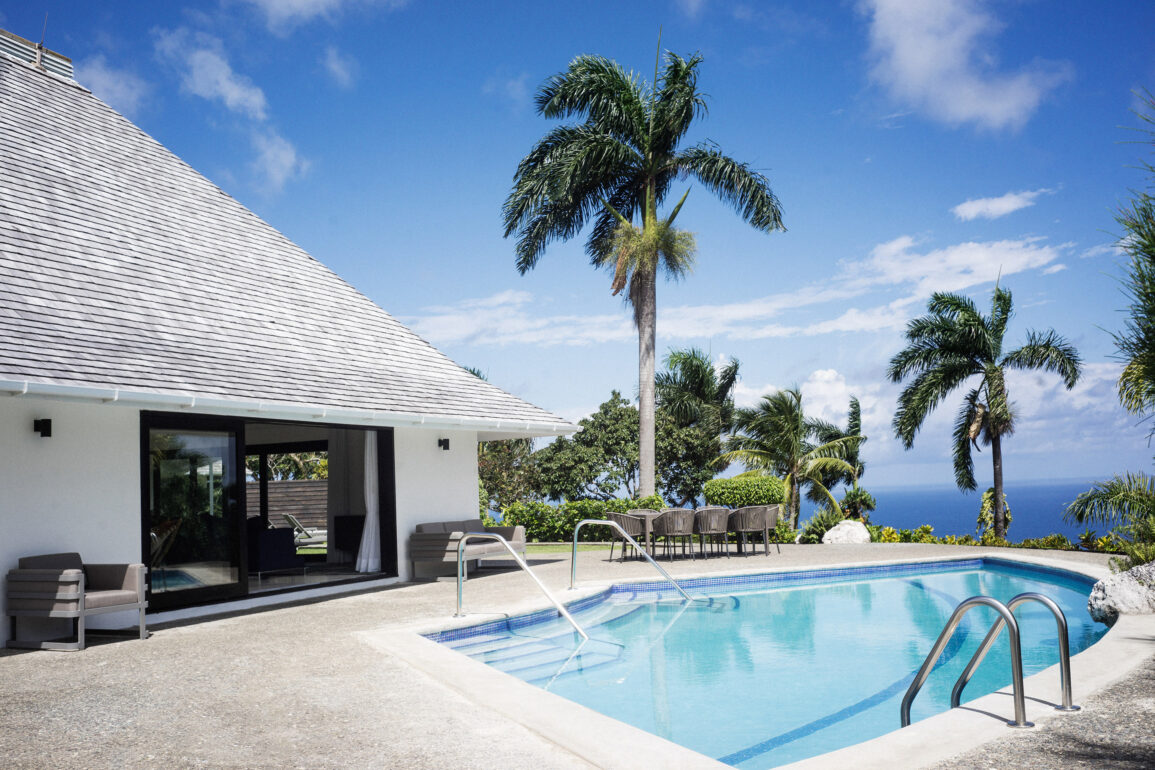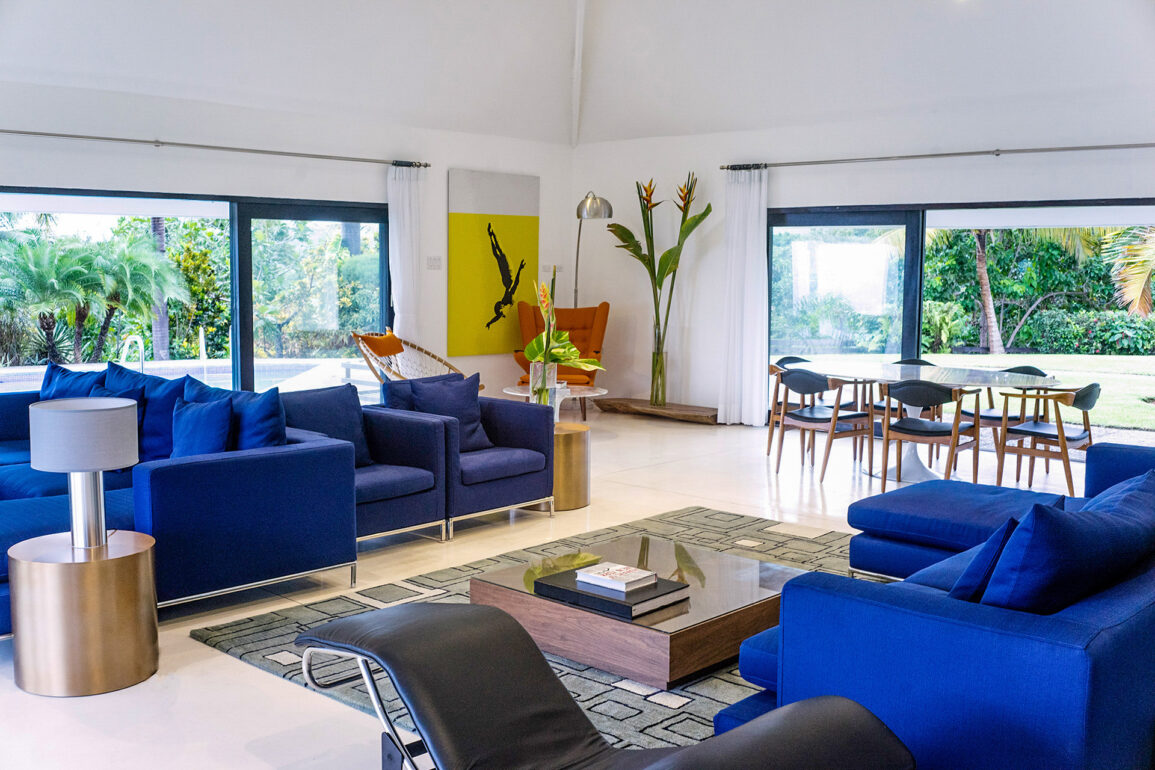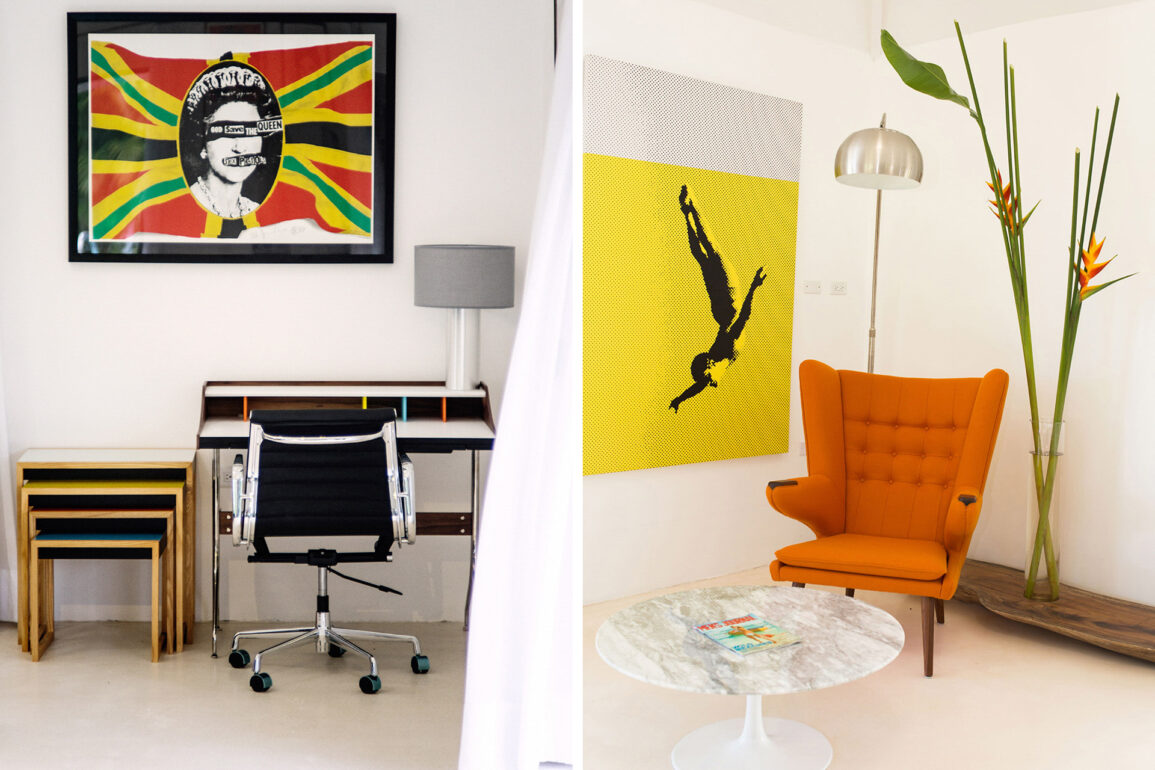 This sprawling ranch-style home was once the vacation home of Audrey Hepburn. Set on a half-acre of naturally landscaped gardens, Panorama is a dreamy, contemporary Eden with an epic past. A mid-century marvel, this stunning villa boasts a 360-degree view of the John Crow and Blue Mountain peaks, while displaying the Caribbean Sea in all its splendor.
Lush vegetation and paved walkways give you a charming backdrop to create the best of memories. Hang by the pool or curl up with a book in the art-filled great room. Sophistication and authenticity commingle in an ideal setting for group or family getaways. Many say this residence has one of the best vibes in Port Antonio.
(EXCLUDING TAX AND SERVICE)
INDOOR FEATURES
• 4 BEDROOMS WITH KING-SIZE BEDS AND EN SUITE BATHROOMS. PLEASE NOTE ONE OF THE ROOMS CAN BE CONFIGURED AS A TWIN.
• CUSTOM CURATED ART AND PHOTOGRAPHY COLLECTION
• MOVIE LIBRARY, LED TV'S, APPLE TV'S, US SATELLITE
• DEDICATED HIGH-SPEED WI-FI THROUGHOUT THE PROPERTY
• FULLY EQUIPPED, STATE-OF-THE-ART KITCHEN
• SAME-DAY LAUNDRY SERVICE
• PRIVATE GYM
OUTDOOR FEATURES
• ALFRESCO DINING
• SWIMMING POOL HEATED ON REQUEST
• PRIVATE GARDENS & TERRACES
• CHILDREN'S PLAY AREA
STAFF & SERVICES
• IN-HOUSE CHEFS
• FULL-SERVICE STAFF
• HOUSEKEEPERS
• DRIVERS (ADDITIONAL CHARGE)
• 24-HOUR SECURITY
LOCATION
• 5-MINUTE DRIVE TO GEEJAM HOTEL
• 15-MINUTE DRIVE TO PORT ANTONIO
• 10-MINUTE DRIVE TO PRIVATE HELIPAD
• 2-HOUR DRIVE TO KINGSTON
DINING
• SELECTION OF GUEST CHEFS AVAILABLE WHO SPECIALIZED IN GLOBAL CUISINES
• GARDEN TO KITCHEN HERBS AND VEGETABLES
• BESPOKE MEAL PLANS (PER REQUEST)
ACCESS
• FULL ACCESS TO GEEJAM HOTEL,
INCLUDING PRIVATE BEACH,
DINING OPTIONS, AMENITIES AND
FACILITIES
TRANSPORTATION
• AIRPORT GROUND TRANSPORT (ADDITIONAL CHARGE)
• LUXURY VEHICLES UPON REQUEST (ADDITIONAL CHARGE)
PRIVATE VILLA FOOD & BEVERAGE EXPERIENCE
The experience that we have created in our premium private villas is not structured for self-catering, as they come with a full F&B team, who will cater to your bespoke needs. You have the opportunity to choose from meal plans, customised meal plans or simply order à la carte, from our villa menus. Upon arrival and once you have settled in, you will have the opportunity to meet with our villa manager and chef, to discuss your preferences, likes or dislikes, if you haven't already sent these, in advance of check-in. There are three all-inclusive meal plans to choose from that vary in their menu choices and beverage inclusions - some of which entitle you to eat at certain establishments off-property and at Geejam Hotel's Bushbar.