The magnificent shoreline East of Port Antonio has always been a hit with movie stars, but did you know that lots of famous movies and scenes have been shot right here in our neighborhood? 
Let's start with the biggest star of them all, Mr. James Bond. In No Time to Die, Daniel Craig's grand finale as Bond, a substantial part of the movie takes place in Jamaica.
The globetrotting secret agent has accordingly retired to Geejam's own lagoon (Yes it's true!) where he enjoys the spectacular nature, does some snorkeling and sailing before he is brought back into the game.
No Time to Die was also shot in the city center of Port Antonio and several other locations in and around the area. The crew stayed at Geejam whilst shooting. Daniel Craig himself stayed in our Cocosan Villa.
Still as romantic as in the eighties
Do you remember the Eighties romantic classic Cocktail with Tom Cruise and Elisabeth Shue?
All the Jamaican scenes from this movie were shot in our neighborhood too. The bar where a young Tom Cruise mixes his cocktails was located at Dragon Bay. Additionally, you'll also spot the world-famous Blue Lagoon and the just as stunning Frenchman's Cove (which is within walking distance from Geejam Hotel) in the movie.
You'll probably remember the waterfall scene best. Well, that's Reach Falls and it's just as gorgeous and romantic today as it was back in the eighties.
Visit the same places as the stars
Tom Cruise is a real Porty fan. In 2010 he stayed at Geejam whilst filming the action-comedy, Knight & Day with Cameron Diaz.
Remember that amazing beach on the deserted island they're stranded on?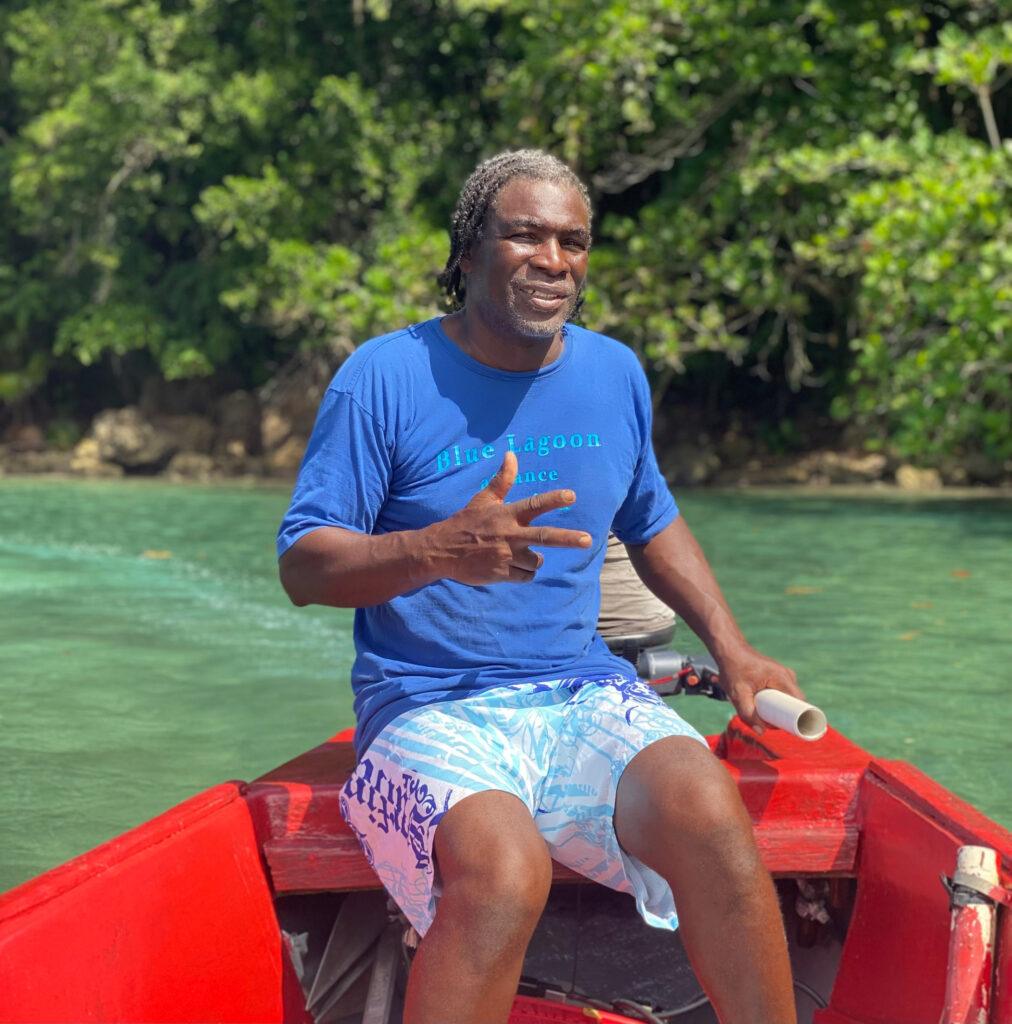 Yep, that's Frenchman's Cove and it is truly one of the most beautiful beaches on the planet. For instance, it even has a crystal clear spring water river that runs through before it meets the Caribbean Sea. This makes the water sparkle.
Frenchman's Cove is only five minutes from Geejam Hotel. If you go right after breakfast you usually have the place to yourself.
In fact, the movie was also shot on Monkey Island, which is indeed just outside The Blue Lagoon.
If you're a strong swimmer you can venture over and explore it for yourself (or visit via boat, whatever works for you!).
If you want to check out all these beautiful locations we recommend you rent a small boat for a half-day trip. Contact Guest Services and they will arrange a tour with one of our trusted captains.
Don't forget your snorkeling gear, sunscreen, and an Iglo filled with water and Red Stripe.